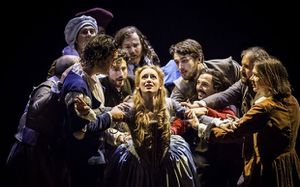 "Shall I compare...-shall I compare-shall I compare..?-shall I compare something something something-" mused Shakespeare.
A loud "Boooo..!" came from Shakespeare's friends.
"Shall I compare the... – shall I compare the - ? I've lost my gift, Marlowe, I've lost it!"
"Shall I compare the… shall I compare thee?! Shall I compare thee to… an autumn morning…?
"Hmm…" said his great friend Marlowe, "I don't think that quite works."
"A spring evening?" Shakespeare suggested.
"No, not that either. But trying starting with a summer's day," said Marlowe as he exited the room.
"A summer's day. Hmm. Shall I compare a summer's day to… - shall I compare… - SHALL I COMPARE THEE TO A SUMMER'S DAY?! Yes!"
That was the beginning of possibly one of the funniest plays in the world. You never know what you can do with a bunch of actresses and a dog – oh yes, the dog. There was a dog in the play. Yes, a real live dog. It actually saved a life or two (no, seriously) by knocking someone over, and in my opinion, it was the star of the show. If a dog can save a life, for me it's already become the main role, however minimal its appearance on stage is.
What was I saying? Ah yes, one of the funniest plays - one of the funniest plays about one of the greatest playwrights in English history. There's a lot of meaning in the phrase 'shall I compare thee to a summer's day?'. It could mean 'is it worth comparing you to summer's day because I know you are more beautiful anyway?', but on the other hand, it could mean 'is it worth comparing you to a summer's day because I know you are uglier anyway?' An interesting point for discussion. Perhaps not such a good thing to say to your boyfriend or girlfriend on your first date. It might also make your first date your last date if you think of it that way.
Anyway, about the play. Shakespeare is a great writer but he feels he is losing his talent, having already sold his play 'Romeo and Ethel the Pirate's Daughter' (which he hasn't written a word of yet) to both Richard Burbidge and Philip Henslowe. Shakespeare eventually changes 'Romeo and Ethel the Pirate's Daughter' into a tragedy named 'Romeo and Juliet' which still includes some comedy such as Juliet's nurse who allows the couple to make love in secret.
When the auditions for Romeo's part took place, a man named Thomas Kent pleases Shakespeare, and is cast as Romeo. Thomas Kent is in fact the young noblewoman Viola de Lesseps dressed up as a man. She loves the theatre and wishes that women could be actors (at that time, it was illegal). To be able to do so, she must dress up as a man so that she brings no shame upon her family name by breaking a well-known law.
Soon, Shakespeare realises that Thomas Kent is in fact Viola, and this realisation makes them fall deeply in love with each other, despite the fact that Viola is betrothed to the cold-hearted Lord Wessex. Shakespeare also previously had a wife, whom he separated from.
At the end of the play, everything goes wrong for the performance of Romeo and Juliet. Thomas Kent (or Viola) doesn't turn up to play his part, so Shakespeare has to step in and act. In addition to this, the actor who is supposed to be playing Juliet loses his voice, adding to all the drama backstage. Luckily, just when Juliet is supposed to go onstage for the first time, Viola arrives backstage hoping to be able to watch from there. She is shoved onstage by the theatre company and saves the evening by acting as Juliet. After the show, Queen Elizabeth I congratulates the actors (including Viola) on their performance. The Queen tells Wessex that Viola may be marrying him, but her heart is lost to the theatre. Afterwards, she turns to Shakespeare, saying that she really enjoyed it, but next time, she wanted comedy – and a man with a dog. "Perhaps the Twelfth Night?" she remarked.
This play showed me how Romeo and Juliet was inspired by Shakespeare's own life, though you have to go and see it to understand this. I loved the performance and wish I could see it again. (there is also a DVD version available).