Yesterday, my mum and I went to see a jazzed-up version of Shakespeare's 'Romeo and Juliet'. It took place in the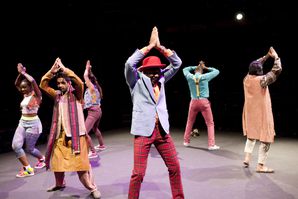 temporary theatre at Southbank. Although the theatre was understandably cramped, my mum and I had front row seats, so we had a great view!
Before the actual play, a large group of people, including me, took part in a free session with three members of the cast. We warmed up our voices by whispering our names, speaking them in a spooky way and shouting them with a fighting move that everyone had to copy. We were then split into two groups, the Montagues and the Capulets, and had an imaginary photo taken of us by a photographer from the opposite family. In comparison to the Capulets, our hate towards them looked pathetic. We bared our teeth and grinned sheepishly, while they had their fists ready to fight and were baring their teeth too! We were then shown some dance moves that were to be used in the party, and finally invited to come onstage for the party! I declined this offer because we also had to dance 'freestyle', and I feel very self-conscious doing modern dance! I would have danced if it had been ballet.
And now about the show itself. It was cleverly put together with a square stage and four vertical metal posts, one in each corner, with several short horizontal posts lining them so the actors and actresses could climb up. They were used as trees, Juliet's balcony, street lamps and had loudspeakers placed on top of them. There were also props such as masks hung on them and party poppers and ribbons placed at the bottom of them.
There were eight actors playing in total, half of which were men and half of which were women. The cast was entirely Indian and African (the Capulets were Indian and the Montagues were African). Several members of the cast sang a mixture of modern songs and songs that had passages from Romeo and Juliet (but sung with a modern tune) and I found this ingenious. The nanny was of course hilarious, trying to keep the peace and over-reacting to lots of things such as Romeo and Juliet's marriage. She was my favourite character.
The ending was extremely touching. Romeo creeps into the Capulet's family tomb with a bottle of poison, having been told that Juliet is dead. He turns his back to Juliet as he drinks it, and the moment before he does, Juliet wakes up. This also tends to be incredibly frustrating! Romeo dies in Juliet's arms, having seen her one last time before he dies. Juliet drinks the last dregs of the poison and they die together, in love.
This play is suitable for any age, because of its modern take on an originally old piece of work. It is still spoken in Shakespearian English, but is very easy to understand. It was an inspiration to me and probably my generation to see actors in brightly coloured headphones and Converse, casually spouting Shakespearian phrases to their parents. If you do decide to go and see it, I recommend you do the free workshop beforehand to get an insight to the play and how the actors/resses became what they are now, and also meet some of the cast. Thank you Southbank for a fabulous time.
#romeoandjuliet #nationaltheatre #southbank