Recently, my family and I went on holiday to New York and Cape Cod. The highlight of the holiday was definitely the graffiti in New York. The reason I enjoyed seeing it so much was because I love the freedom in it – with graffiti, anyone can do anything they want to. Graffiti can be seen in the most unexpected of places. We even saw graffiti on the highline walk in the meat-packing district, high and low, which would have been invisible to most human eyes beforehand.
The place where we saw the most graffiti was probably in Brooklyn, in the area around Seigel Street. Brooklyn is an up-and-coming area, despite it still being very industrial. But artists are making their mark hear, reclaiming the wasteland with their spray cans and paint. I think it will soon become the trendiest place in New York, with its friendly people who will show you where to find the best graffiti and the graffiti itself.
The Brooklyn Bridge forms the hiatus between Manhattan Island and graffiti-filled Brooklyn. There was an abundance of graffiti including pasted paper with a woman holding a glass of wine, saying 'When anyone calls me antisocial, I say "shut up and leave me alone!"'.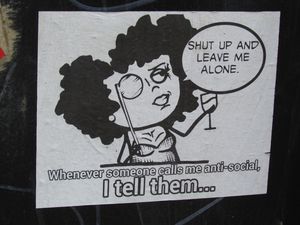 How ironic. I would probably say the same thing!
There was also 'GOLD POO' written in gold writing. Although completely random, this funny little statement caught my eye.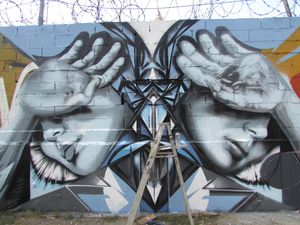 We actually saw a man who had been commissioned to do graffiti to regenerate Williamsburg. He was near completing it, but we came to realise after a while what skill it took to create a decent piece of graffiti. We could see how he used lots of shades of one colour to give the picture depth and make it more realistic. I wish I knew how to do that!
I really enjoyed my stay in America, but I just wish we could have stayed for longer!
(the graffiti that the artist had created)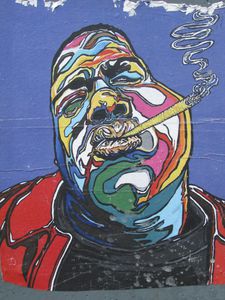 I love this artwork because it seems as if the model doesn't care that he's being painted - he just trying to enjoy a good smoke. I also love the way the
spaces between his wrinkles are depicted as bright colours.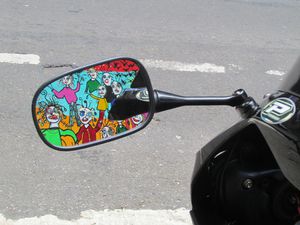 Over our time in New York, our family had a little photo competition. The theme was 'reflections in card and/or motorbike mirrors'. This is one of the photos I took with that theme. I like it because it includes the brightly-coloured graffiti, but also because part of the motorbike can be seen.